MST XBLS sensored brushless ESC 60A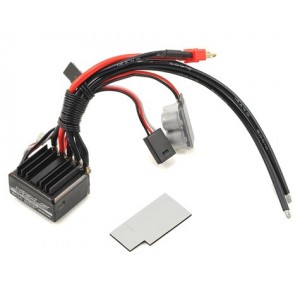 MST XBLS sensored brushle
ss ESC 60A
The MST XBLS Sensored 60A Brushless ESC is a great, budget friendly sensored ESC that can be used for 1/10 on road, off road and rock crawlers. With a variety of driving modes to choose from as well as various protection features, the XBLS delivers a multitude of features and functions that are normally reserved for more expensive products. Download instructions from the resources tab above.
Features:

Smart and small; Drivers sensored and sensorless motors.
The most advanced competition firmware with perfect control feeling.
User Programmable Modes:
3 running modes ( Forward mode, Forward / Reverse mode, Rock Crawler mode )
9 start modes ( Also called "punch" ) from "very soft (Level 1)" to "very aggressive (Level 9)"
Multiple protection features : Low voltage cut-off protection / Over-heat protection / throttle signal loss protection / motor blocked protection.
Specifications:
Cont. / Burst Current: 60A / 360A
Application: 1/10, 1/12 on-road & off-road, 1/8, 1/10 scale 1.9 class rock crawler
Suitable Motor: Sensored and sensorless brushless motors
Motor Turns:
4-6cells NiMH or 2S Lipo: ≧ 5.5T (1/10 on-road), ≧ 8.5T (1/10 off-road)
8-9cells NiMH or 3S Lipo: ≧ 10.5T (1/10 on-road), ≧ 17.5T (1/10 off-road)
Resistance: 0.0006 ohm
Battery: 4-9 cells NiMH or 2-3 cells Lipo
BEC Output: 6V @ 2A, Built-in BEC (Switching mode DC-DC regulator)
Dimension: 33mm(L)*28mm(W)*31.5mm(H)
Weight: 61g (Cooling fan NOT included)