HPI Baja 5T 1/5 RTR 2WD Gasoline Truck w/2.4GHz Radio & 26cc Engine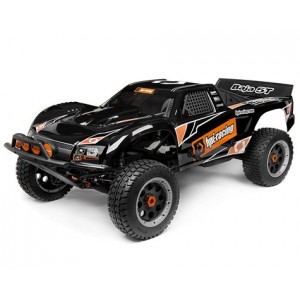 With its sleek black color scheme, the Baja 5T racing truck has a look that is meaner, more aggressive and ready for action! The design has all the hallmarks of an instant classic, while underneath the body HPI designers have been busy with the details of updated engine!
The engine has all the same features as the original Fuelie 26, but now it's got a bit more power, and all of the standard and option engine parts from the previous engine will also bolt right on, so it's easy to maintain and upgrade! With the Baja 5T you get aggressive desert truck looks, high performance new features, and compatibility with many of the existing Baja 5B spare parts and option parts, wrapped up in a RTR package that gets you running in just a few minutes.
The Baja 5T was inspired by the latest generation of desert trucks that compete in the world famous Baja 1000 race in Mexico. The body was built for a perfect fit on the Baja 5T chassis, with sculpted fenders, scoops, louvers, and an integrated roll cage for authentic desert-tough looks. In true HPI RTR form, the body is completely ready to go right out the box.... Factor in the front skid plate bumper, Desert Buster tyres mounted on Outlaw truck wheels with real bead locks, and you've got a truck that looks like it just rolled off the starting line in Ensenada.
26cc Engine
26cc engine for more power, more torque, and more speed than 23cc engines. Equipped with a convenient pullstarter for quick and easy starting. A high capacity dual-element air filter keeps the engine running clean even in grueling off-road conditions, with a quick-change design for easy maintenance. Air cooled with built-in fan for consistent running temperatures. Fully adjustable carburetor with primer and kill switch. Now constructed using Torx screws for extra durability and easier maintenance, Torx T-27 wrench included. Gasoline powered for low-cost operation compared to nitro fuel, easier to tune and more consistent than nitro engines. More than 30 minutes of run-time per tank.
RTR - PERFORMANCE STRAIGHT FROM THE BOX
HPI makes it as easy as possible for beginners to get into 1/5 scale trucks. The Baja 5T is completely pre-built and ready to go right out of the box! Everything is assembled and tuned for you by professionals - engine connections, shocks and more are perfect before you even open the kit so you don't have to do a thing to get going fast! HPI Ready-To-Run models bring you the same high performance and quality that you'd expect from a high end model car kit but with the added convenience of being factory pre-assembled to the highest standards - giving you a high performance RC car straight from the box! HPI RTR cars are 98% factory assembled - they come Ready-To-Run and equipped with all the radio gear required. Just a few steps are needed to get your car up and running, such as adding the batteries to the transmitter and receiver and if you have a nitro powered car, running in the engine - which is now even easier with our comprehensive manual and HPI RC cars DVD which are both included in every box.
Features:
Baja 5T-1 Truck Body
VVC/HD Shock Set
Outlaw Truck Wheels
High Flow Muffler
Anodized Aluminium Parts
Front & Rear Sway Bars
Modified Rear Shock Tower Brace
Double Wishbone Suspension
SFL-11MG Metal Gear Steering Servo
Heavy Duty Beadlock Wheels
Moulded Rear Spoiler
Heavy Duty Rear Dogbones
Disc Brake System
Full Ball Bearings
8000 RPM Clutch
Aluminium Alloy Diff Case
Extended Roll Cage
Includes:
Pre-Assembled 1/5th scale 2WD truck with Fuelie 26cc gasoline engine
2.4GHz radio set and SFL-11MG servo
(4) "AA" Batteries (for Transmitter)
6.0V 3000mAh Receiver Pack
Multi region Battery Charger
Needed To Complete:
Gasoline
2 Stroke Engine Oil
5 Litre Fuel Can