Miss Circus Circus 1/8 Boat Kit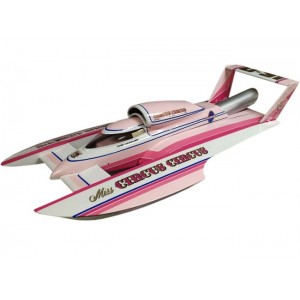 Miss Circus Circus 1/8 Boat Kit
This is the 1/8 scale All Wood Miss Circus Circus Hydro-Plane Boat by Dumas. This Kit is Designed for a .67 cu. in. Inboard/Marine Engine.
Product Features
Pre-formed center section and premium die-cut plywood construction.
Uses flexible drive cable drive.
Monster speed and performance.
Mahogany and birch plywood material.
Designed for building ease.
Speeds in excess of 50 mph!.
Product Specifications
Length: 43" Beam: 21"
Engine: .60-.67 cu. in. inboard marine engine
Dumas Product Number: 1325
What's Included
All neccessary wood
Pre-formed ABS cowling
Lettering, number, and logo decals
Instructions and plans
Requirements & Suggestions
.60 to .67 inboard marine engine
2 channel radio with one hi-torque servo and one standard servo
Dumas engine coupling to fit engine
Running Hardware kit
4" engine mounting plate
14 oz. slant fuel tank
Fuel line
1/8x12" tube
4-40 pushrod, 2-56 pushrod
Dumas Antenna, Kwik switch mount
Paint
Micro balloon, Fiberglass cloth
Field and building equipment