Backlash Gen 3 Kitset (copy)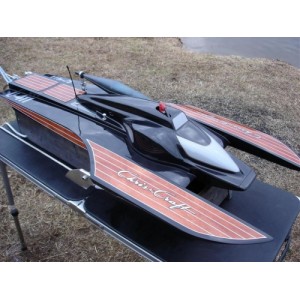 The Backlash is a larger-scale cousin to the very successful Whiplash. At over 48" long, this Gas Sport Hydro is extremely stable in rough water conditions, and is very fast due to its sleek aerodynamic package. The first weekend on the water, the boat broke the long standing IMPBA oval record at 20.284 seconds for two laps (1/3 mile course). Due to the unique sponson design, we designed a new turnfin for this boat which makes the boat handle like a dream.
The Backlash Gas Sport Hydro Kit is cut from a CNC laser with exact precision. All skins are 1/16'' 3-ply birch aircraft grade plywood, and the frames are 1/8'' 3 ply birch plywood. You can buy the kit with or without a fiberglass cowl. A 26 page instruction manual as well as a CAD layout are also included.
Backlash Accomplishments:
2010: Broke the IMPBA oval record.
2011: New Zealand Nationals winner.
2011: IMPBA LSG27 Nationals winner
2011: IMPBA LSG36 Nationals winner
2011: NAMBA Heat Race record holder
2011 to present: NAMBA G1 2-lap oval record holder
2011: NAMBA GX1 2-lap oval record holder
2012: NAMBA G1 Winter Nationals winner
2012 to present: NAMBA GX2 2-lap oval record holder
2012: NAMBA 6 lap heat race record holder - 64.37 seconds
2012 to present: NAMBA G1 SAW Record Holder - 97.65mph
2014 to present: NAMBA G2 SAW Record Holder - 97.55mph
2014 to present: NAMBA G2 SAW Record Holder - 96.73mph
 Measurements:
Hull Length: 48-1/2"
Hull Width: 22-3/4''
RTR weight: 13-1/2 lbs