Lauterbach Gen 2 Kitset (copy)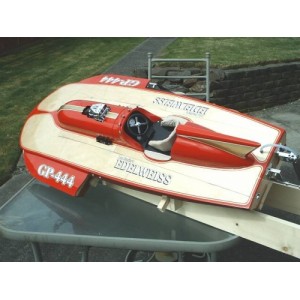 Lauterbach Gen 2 Kitset (copy)
The Lauterbach Thunderboat is a 1/5 scale replica of the world famous hydroplanes built by Henry and Larry Lauterbach from the 1950's to the 1990's. Nothing says "speed, beauty and craftsmanship" more than a Lauterbach.
Legal in IMPBA and NAMBA, this 52" boat is extremely stable, and very fast. Made for a stock Zenoah, you will reach speeds around 60mph and will never have to lift the throttle. We have the GP style cowls available.
The Lauterbach kit is cut from a CNC laser with exact precision. All skins are 1/16'' 3-ply birch aircraft grade plywood, and the frames are 1/8'' 3 ply birch plywood. You can buy the kit with or without a fiberglass cowl. A 20+ page instruction manual as well as a CAD layout are also included.

Gen2 was released in 2016 with over 3 years of R&D prior to release. The Gen2 has different sponsons and motor placement. 
Accomplishments:
2010: Northern Nationals winner, and numerous district championships.
2011: NAMBA Heat Race Record Holder
2013 to Present: NAMBA 2-Lap Record Holder
2014: IMPBA, NAMBA National Champion
2016: NAMBA Heat Race Record Holder
 Measurements:
Hull Length: 52"
Hull Width: 24-1/4"
RTR weight: 17 lbs
Please note this is a kitset only and requires assembly.