Zenoah G270RC 3 HP Engine (4 Bolt Topend) - Black no clutch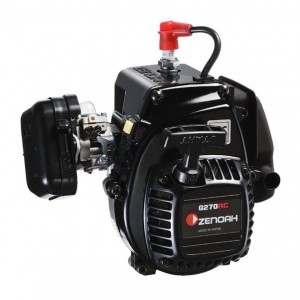 Zenoah G270RC 3 HP Engine (4 Bolt Topend) - Black no clutch
The Zenoah G270RC engine is a 25.4cc (34mm bore, 28mm stroke) performance machine. This engine is know for having a consistent power with plenty of RPMs. In creating this engine, Zenoah revised and improved on their popular G260 model. These features include: 

4-bolt cylinder design for improved sealing and reduced gasket blowout (an enhancement from the 2-bolt cylinder design of the G260RC) 
a stronger and lighter crankcase with additional crankshaft bearing 
high-performance WT-990 carburetor as standard equipment (15.88mm bore, 12.7mm venture) 
A lighter flywheel 
metal-impregnated insulator gasket for a better seal and modified cylinder hardware to better resist vibration. 
The cylinder showcases a 4 transfer port 34mm cylinder with a "hemi"-style combustion chamber. There are redesigned fins for better cooling and larger ports. A full-circle crankshaft round out the internals. Includes a preinstalled 54mm inner clutch assembly and installation instructions.
For Scooters: Fits Sport, X-ped, Bigfoot, Super X-ped, Super Bigfoot, GSR Sport, GSR25, GSR26R, GSR29R, GSR Cruiser, and Quad 30.

For R/C: Fits a wide variety of R/C cars, planes, boats, and helicopters. For cars - fits FG: Marder, Leopard, Monster Beetle, Monster Truck, Stadium Truck, Pajero, Sportsline, etc. Also fits Duratrax Firehammer, Firehammer MT, XTM Grizzly, Carson Attack, HPI Baja 5B/5T/5SC, Traxxas Monster Buggy, MCD Rally, MCD Race Runner, MCD 4x4 Monster Losi 5IVE, and most other large scale onroad and offroad RC cars.

NOTE: For customers installing this into the Losi 5IVE-T, you must use the CY Fan cover and clutch case for proper fitment. We suggest you purchase the engine without clutch and purchase the CY Clutch Assembly separately
For customers installing this into FG models, some platforms will require modification to the crankcase for proper fitment. We suggest that you use your stock engine as a template

Engine Stats: Displacement: 25.4cc. Power: 3HP @14,000 RPM. Torque: 1.4 ft/lbs @10,000 RPM. Timing:30 degrees BTDC @ 8,000 RPM. Compression Ratio: 8.9:1. Fuel: 91 octane (using the R+M/2 octane rating method) or higher mixed 25:1 with 2-stroke oil.
Available in factory black finish or with aftermarket chrome shroud, fancover, etc pre-installed