Zenoah G320RC 31.8cc 4-Bolt Engine - Complete with Clutch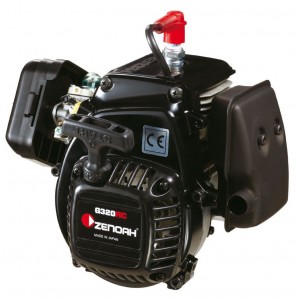 Zenoah G320RC 31.8cc 4-Bolt Engine - Complete with Clutch
Zenoah G320RC 31.8cc 4-Bolt Engine - Complete with Clutch
Brand new for 2014, the Zenoah G320RC 31.8cc 4-Bolt Engine. All new design - redesigned cylinder, crankcase, crankshaft, piston, etc for an absolute explosion of power, yet still in the same size package as the original Zenoah RC engines (G230RC, G240RC, G260RC, G270RC, G290RC)
This Zenoah G320RC engine has a 38mm bore, and 28mm stroke, for 31.8cc in its stock form. Includes a revolutionary new cylinder design with closed deck transfer ports (two piece), with removable covers.
The release of this Zenoah G320RC engine is the biggest news to hit the R/C engine world in years! We have been testing this engine for the last few months, and the power output is incredible.

What is the same as the existing Zenoah R/C engines:
Pull Starter
Fan Cover
Ignition Coil 
Flywheel
Inner Clutch Parts
Spark Plug
Carburetor Gasket
Exhaust Gasket
Muffler
Air Filter
Small Oil Seal
What is different:
Cylinder
Piston
Ring
Piston Pin, Bearing, Washers
Crankcase
Crankshaft
Crankcase Bearings
Outer Clutch Case
Engine Cover (shroud)
Crankcase Gasket
Insulator Gasket
Cylinder Gasket
Piston Pin, C-Clips, Washers, Bearing, etc
Insulator Manifold
Carburetor
Large Oil Seal
Specifications:
Displacement: 31.8cc
Bore: 38mm
Stroke: 28mm
Dry Weight: 2.3kg 
HP: Approx 3.5 or more (before adding tuned exhaust). The G290RC is commonly listed at 3.5hp, but this engine puts out considerably more power than the G290RC. Adding a tuned exhaust or other modifications will further increase horsepower and torque numbers.
Overall Dimension: 164mm Length, 215mm Width, 196mm height
Fuel: Pre-mixed gasoline and 2-cycle oil, 25:1 ratio
Fits most all the same applications as the regular Zenoah R/C Engines:
HPI Baja 5B/5T/5SC, Losi 5ive, Losi Desert Buggy XL (DBXL), Redcat, Go-Ped(clutch driven versions only), Helicopter, and more!
For Go-Ped use - This engine will bolt on and work on existing 54mm clutch models. Will work on spindle drive models only if ADA clutch is used (part gt201).
This is a complete engine - including carburetor, air filter, clutch, and muffler.
The crankshaft is a different style (larger) than the original zenoah engines, so the existing +2mm stroke crankshafts on the market will NOT be compatible. But, crankshafts compatible with this engine are in development, and will be available from RC Innovations in the next few months. With a 2mm stroker crankshaft installed, this engine will become a Zenoah G340RC Engine (38mm bore, 30mm stroke, 34.02cc) performance beast!!!
The exhaust port spacing is the same as the original engines, so all exhausts, tuned pipes, etc will remain compatible.
The cylinder includes removable transfer port cover plates, these plates can easily be removed for easier access to the transfer ports.