SSS 3660 2070KV Brushless Motor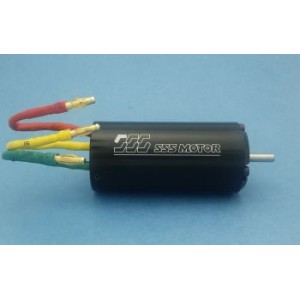 SSS 3660 2070KV Brushless Motor
36mm Diameter by 60mm Long Brushless Motor by TFL Racing. Hand wound for high efficiency of up to 90%. Comes with high quality bearings and neodymium magnets for high power. Includes endbells that are assembled with screws for both strength and ease of maintenance.

Vented endbell and front mounting plate for additional air cooling.

Specs:
Magnets: neodymium
Watts: 1800
Poles: 4
Motor Shaft: 5mm with flat spot
Can Measures: 36mm diameter x 60mm long
Weight: 245 Grams
Mounting screw diameter required: 3mm
Mounting Holes 25mm apart for use with most 540 mounts.

20,000-35,000 total rpm for boats. We suggest most Fast Electric Boaters should run in the 25,000RPM range for Sport Boating or 30,000RPM Range for racing. These are only guidelines, we suggest if you do not have the knowledge to pick the correct motor, please consult us first or other members of the rc fast electric boating community.