Silverback RC '5imian' Losi 5ive-T Wheels - Dyeable White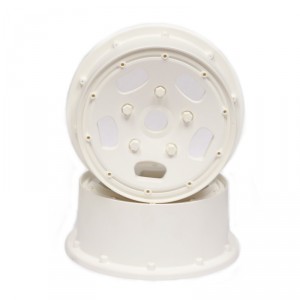 Silverback RC are proud to finally announce the release of our wheel called the 5imian (pronounced Sim - ee - yan) specially designed for the Losi 5ive-T platform.

Taking inspiration from the awesome looking 1/1 scale short course racing trucks, we have a design copyright on this fantastic scale looking wheel for your Losi 5ive-T. Compatible with all tyres for the Losi 5ive, and any tire designed for the front wheels of the HPI Baja 5B/5T/5SC.

We are the first aftermarket company in the world to mass produce a wheel for this exciting platform, and have developed our strongest polymer blend to date for its use. The wheels come with a +3mm offset compared with stock, so extenders are not necessary in obtaining a slightly wider and improved handling stance. Each wheel weighs almost an once less than stock, so considerable weight savings can be made if using these.

Available in Black, Silver, & dyeable White, sold as pairs.
WHITE