ESP CHAMPIONSHIP PORTED G290PUM 29cc 36mm Watercooled Cylinder Kit w/ Piston Mod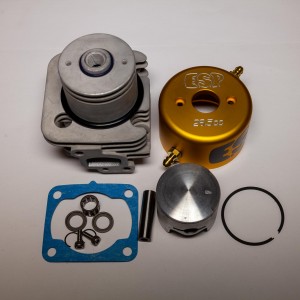 This kit contains a cylinder that has been championship ported by ESP (Earth Surfer Products) - intake, exhaust, and transfer ports have been enlarged/reshaped for more fuel/air flow and hence more power.Ported cylinder kit for Zenoah PUM marine (watercooled) engine. 4-bolt mounting design, 36mm cylinder bore. Fits Zenoah G231PUM /G260PUM/G300PUM engine. Increases engine power substantially!

NOTE: These kits now come with the ESP high rev / lightweight / relieved piston.

This includes the parts shown (piston, cylinder, ring, pin bearing, pin washers, piston pin, base gasket, c-clips, and gold-colored heatsink).


These kits work with the stock 28mm stroke and the +1mm (29mm) stroke crankshafts.